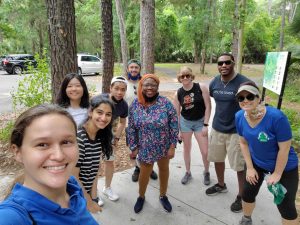 The INIT Lab (the Intelligent Natural Interaction Technology Laboratory) has focused on understanding, designing, and developing natural user interactions for children, especially pen, touch, and gesture interaction. These interaction modalities use intelligent recognition algorithms to translate input from the user into something the system can understand, based on a predefined model built from training examples from target users. INIT Lab projects advance human-computer interaction (HCI) research questions of how users want to interact with these natural modalities, and computer science research questions of how to build recognition algorithms that can understand user input in these ambiguous modalities.
More recently, we are exploring human-AI interaction, especially for children and families, from a human-centered perspective. We also frequently consult on effective implementation of a user-centered design approach for research on new systems to be used in specialized contexts and/or by specialized target users, such as mobile health, surgical contexts, and high-stress, high-stakes scenarios. Our research integrates human-computer interaction, child-computer interaction, multimodal interaction, machine learning and artificial intelligence, pattern recognition, cognitive science, and interaction design.
For nearly a decade, our primary user group was children. Elementary school children are undergoing dramatic cognitive and motor skills development. Our prior work has shown that existing approaches to recognizing input in natural modalities, which have typically been designed based on what we know about adults, do not work effectively for children. We continue to apply our expertise to designing and developing new smart interactions with emerging technologies for broad populations of specialized target users groups, including children, their families, and beyond.
The INIT Lab is directed by Dr. Lisa Anthony, and is part of the CISE Department at the University of Florida.